The district administration on Tuesday ordered the sealing of Shri Paras Hospital, a prominent private hospital in Agra, following a purported video clip of its owner where he talks about how the hospital cut off oxygen supply to Covid-19 patients for five minutes as part of a "mock drill" to find out "who will die". He says that 22 patients were "filtered out" during this "experiment" as they "turned blue".
Speaking to The Indian Express, Agra District Magistrate Prabhu Narain Singh confirmed that the person in the video clip was the hospital owner, Dr Arinjay Jain. The incident is reported to have occurred on the morning of April 26, and the video was made on April 28.
While Jain talks about 22 patients who "turned blue", Singh said four Covid-19 patients died on April 26 and three on April 27.
In the video clip, Jain says the "biggest supplier" of Agra warned him at midnight that he had limited oxygen stock, only enough to last till the morning (of April 26). He says he informed the 96 patients about the situation, and asked them to make arrangements by (April 26) 10 am, but nobody was willing to leave the hospital. He says he then sought help from the "oxygen group", but they said "discharge karna shuru karo, oxygen kahin nahin hai. Mukhya Mantri nahin mangwa sakta oxygen…(Start discharging, there is no oxygen anywhere. Even the Chief Minister cannot arrange for oxygen)".
PM: "????? ??????? ?? ??? ???? ???? ??"

CM: "??????? ?? ??? ??? ????? ??? ?? ????? ?????? ????? ?? ??????? ???? ?????"

??????: "?????? ?? ????? ?? ??????? ???? ?????? ??????? ? ????"

???? ???????: "??????? ???? ??? 22 ?????? ?? ??????? ??? ???? ???????? ???"

?????????? ???? pic.twitter.com/DbiqtILE27

— Priyanka Gandhi Vadra (@priyankagandhi) June 8, 2021
"Kuch log ko vyaktigat taur pe samjhana shuru kiya… Kuch log… bole nahin jayenge. Maine kaha koi nahin ja raha, dimag mat lagao… ab woh chhaanto jinke oxygen bandh ho sakti hai. Ek trial maar do, mock drill karke dekh lo. Samajh jayenge kaun sa marega, kaun sa nahi marega. (We started making some people understand… Some said they wouldn't leave. I said no need to think too much, identify those whose oxygen supply can be cut off. Let us do a trial, a mock drill. We will understand who will die and who won't)," Jain says in the clip.
"Ek mock drill kari humne subah 7 baje… Shoonya kar diye sabke. Phir chhaant gaye 22 mareej… Turant khol diye. 22 chhaant gaye je marenge. Chhatpata gaye, neele padne lage… Chalo, 74 bache… Time mil jayega… Sabse bada prayog yahi raha (We did a mock drill at 7 am. We made it [oxygen supply] zero. Then 22 patients who were likely to die were filtered out … We immediately restored supply. They started turning blue… 74 remained… We got time… This was our biggest experiment)," he says.
 Staff take out empty oxygen cylinders from Paras Hospital in Agra on Tuesday. (Express Photo: Praveen Khanna)
Responding to a question, he says that the "mock drill" lasted five minutes. He says the families of the remaining 74 Covid patients were asked to arrange for oxygen cylinders.
When contacted on Tuesday, Dr Jain told The Indian Express: "We adjusted the bed flow of oxygen of patients just to check what amount was required. Since everyone had been saying that oxygen must be used judiciously we decided to adjust levels to see if we could use less. We identified 22 patients who required high flow oxygen. We had sleepless nights over oxygen supply and this was our experiment to stabilise supply. We did not cut off oxygen as is being said everywhere. There is no irreversible impact of lowering oxygen supply". He added that there were only four Covid-related deaths on April 26.
District Magistrate Prabhu Narain Singh said: "There is no truth in the statement that 22 patients died. The 22 patients being talked about are primarily those who were critical. However, we will study the video and take action accordingly."
"In Agra district, there was some oxygen scarcity on the morning of April 27 and April 28. We would get around 900 cylinders in 24 hours from the oxygen plant in Sikandrabad. We had also prepared an oxygen bank with 150 cylinders. We would send five cylinders wherever there was a scarcity. In the case of Paras Hospital, we first sent five cylinders. When they faced more requirement, and their usual vendor could not deliver, we sent them cylinders through one of our suppliers," he said.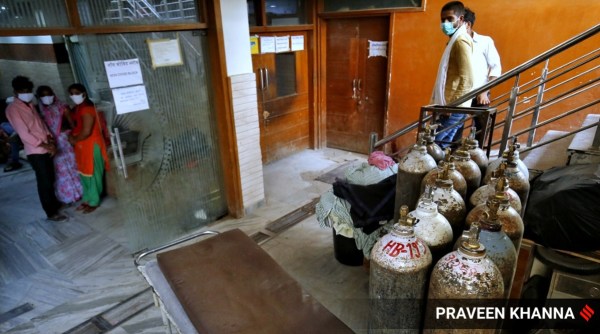 Oxygen cylinders at Paras hospital, which was sealed on Tuesday. (Express Photo: Praveen Khanna)
The district administration has ordered a probe by the ADM (City) and the Chief Medical Officer (CMO). On Tuesday evening, a notice outside the hospital announced that it would be sealed from June 8. The administration has been told to shift the patients to another facility.
"There are 55 patients who need to be shifted, which the CMO will look at. But the hospital will be sealed anyhow. Our investigation is not yet complete and we are still verifying facts. Anyone with a complaint can approach the ADM and each aspect will be analysed," said Singh.
Meanwhile, Ashok Chawla, a resident of Agra, said his father was admitted at the hospital on April 14 and had been put on ventilator support. "Dr Arinjay Jain called me on April 26 afternoon and told me that he would not be able to save my father. He said the hospital lacked oxygen and he would not be able to sustain the supply. Within half-an-hour, I arranged a jumbo oxygen cylinder and so did the administration. But within two hours, he told me that my father would not survive… Now, it is clear that he died due to that experiment… The truth is he had died that morning itself," he alleged.
Chawla said there was unusual chaos at the hospital premises on the afternoon of April 26. "We are glad that the video clip has come out. It has confirmed our suspicions. This hospital has been functioning with impunity," he said.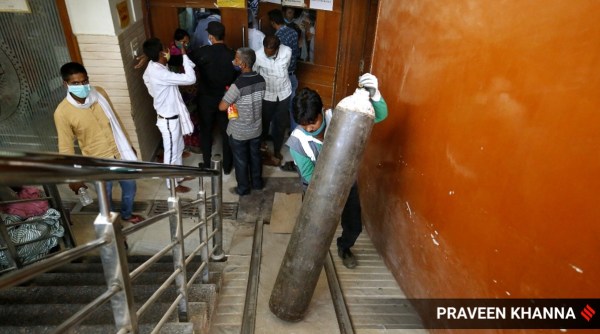 Agra witnessed a shortage of oxygen during the second wave of Covid-19. (Express Photo: Praveen Khanna)
Puneet Verma, nephew of Meena Grover, a 61-year-old school teacher who died on April 26, alleged that the hospital had been "preparing" for the "mock drill". "My aunt was admitted on April 24, and she seemed to be recovering when we spoke to her. But the next day, a doctor informed us that she had suddenly become critical. On April 26, we were told that she had died. It is hard to believe that she became so unwell within a few hours. It is clear that the prior information was part of the preparation. We could not get a chance to save her," he said.
"On April 26 morning, the hospital said it did not have enough oxygen supply. The district administration had arranged 22 cylinders, and I thought it would be enough for the day. At around 4 pm, I saw a policeman wailing as his wife had died. Soon after, they told me that my mother had died. It was clear that the hospital had done something. Otherwise, with enough supply, there would not have been these many deaths," said Vishal Sharma, a journalist.