IPL 2021 Highlights: Having hit hard by the COVID-19 pandemic, the Indian Premier League (IPL) 2021 has been postponed indefinitely on Tuesday. The decision ends a month-long relatively smooth run for cricket's most glamorous event.
The announcement came after Sunrisers Hyderabad's wicketkeeper-batsman Wriddhiman Saha tested positive for COVID-19 along with Delhi Capitals' veteran spinner Amit Mishra. Earlier on Monday, Chennai Super Kings bowling coach L Balaji along with Kolkata Knight Riders bowlers Sandeep Warrier and Varun Chakravarthy had also returned positive results.
The tournament began on April 9 and ran smoothly for 29 matches. The final was planned for May 30.
The BCCI stands to lose over Rs 2000 crore of the broadcast and sponsorship money earmarked for this year's Indian Premier League (IPL) which was indefinitely postponed on Tuesday due to COVID-19 cases in its bio-bubble."We would be losing anything between Rs 2000 to Rs 2500 crore for the midway postponement of this season," a senior BCCI official told PTI. | READ MORE |
(2/5) CSA supports the decision to put the health and safety interests of all involved in the tournament first and foremost and has made contact with all of the relevant franchises to ensure the expedited travel of all South African players and support staff back to our shores.

— Cricket South Africa (@OfficialCSA) May 4, 2021
"Star India supports BCCI's decision to postpone IPL 2021. The health and safety of players, staff and everyone involved in the IPL are of paramount importance. We thank the BCCI, IPL Governing Council, players, franchisees and sponsors for their support. We are also indebted to our employees, on-air talent, production, and broadcast crews for trying their best to spread positivity by delivering the broadcast of IPL 2021 to millions of homes in the face of challenging circumstances," said the official statement.
Cricket Australia and the @ACA_Players understand the decision of the BCCI to indefinitely postpone the 2021 Indian Premier League for the safety and wellbeing of all participants. pic.twitter.com/M612hrnZFo

— Cricket Australia (@CricketAus) May 4, 2021
This year's T20 World Cup is set to be moved from India to the UAE with the BCCI acknowledging that none of the participating teams would be "comfortable" coming here because "a third wave" of COVID-19 cases is expected at the time of the event.
"The suspension of IPL within four weeks is an indicator that it's not really safe to host a global event of that magnitude at a time when the country is fighting its worst health crisis in last 70 years. There is a chance of a third wave hitting the Indian shores in November. So while BCCI will remain the hosts, the tournament will probably shift to the UAE," a senior BCCI source told PTI.
Over two days, COVID-19 engulfed the IPL and the BCCI had no option but to suspend it. It is learnt that moving the tournament to a single venue was never an option, for creating new bubbles in the middle of everything was well-nigh impossible. "It's not feasible to take the IPL to UAE now, midway into the tournament," a top BCCI official told The Indian Express. Asked why the BCCI didn't hold this year's IPL also in UAE, the official said: "We had an excellent England series, where spectators were allowed inside the stadiums. India's COVID-19 curve had flattened. So naturally, we didn't think about organising this year's IPL in UAE." | READ MORE |
After holding 29 matches in the middle of a COVID-19 surge in India, the IPL's bio-bubble was breached with two KKR players and two non-playing members of the CSK contingent testing positive. The development led to Monday night's game between KKR and RCB in Ahmedabad being postponed. With Varun Chakravarthy and Sandeep Warrier testing positive, cricketers from four other teams that played against KKR over the last 14 days have been asked to self-isolate by their franchises. | READ MORE |
"The Indian Premier League Governing Council (IPL GC) and Board of Control for Cricket in India (BCCI) in an emergency meeting has unanimously decided to postpone IPL 2021 season, with immediate effect.
The BCCI does not want to compromise on the safety of the players, support staff and the other participants involved in organising the IPL. This decision was taken keeping the safety, health and well-being of all the stakeholders in mind. These are difficult times, especially in India and while we have tried to bring in some positivity and cheer, however, it is imperative that the tournament is now suspended and everyone goes back to their families and loved ones in these trying times. The BCCI will do everything in its powers to arrange for the secure and safe passage of all the participants in IPL 2021.
The BCCI would like to thank all the healthcare workers, state associations, players, support staff, franchises, sponsors, partners and all the service providers who have tried their best to organise IPL 2021 even in these extremely difficult times."
"The IPL has been suspended for the time being. We spoke to everyone from teams, broadcasters and all those who were involved in it. It was decided to defer the IPL, especially looking at the sentiment and current situation in the country. For us players' health is paramount and BCCI will always keeps safety first. We will meet again soon and decide when we can conclude this edition, we will have to see when is the next window available," BCCI vice-president Rajeev Shukla told The Indian Express.
This comes after Wednesday's IPL game between Chennai Super Kings and Rajasthan Royals was postponed after CSK bowling coach L Balaji tested positive for the virus. On Monday, the match between Kolkata Knight Riders and Royal Challengers Bangalore was also postponed after KKR bowlers Sandeep Warrier and Varun Chakravarthy tested positive for the infection.
BREAKING | IPL 2021 gets suspended for the time being after an SRH player tests positive ahead of their match against MI in Delhi.
SRH player tests positive, doubt over today's IPL game.
More details to follow…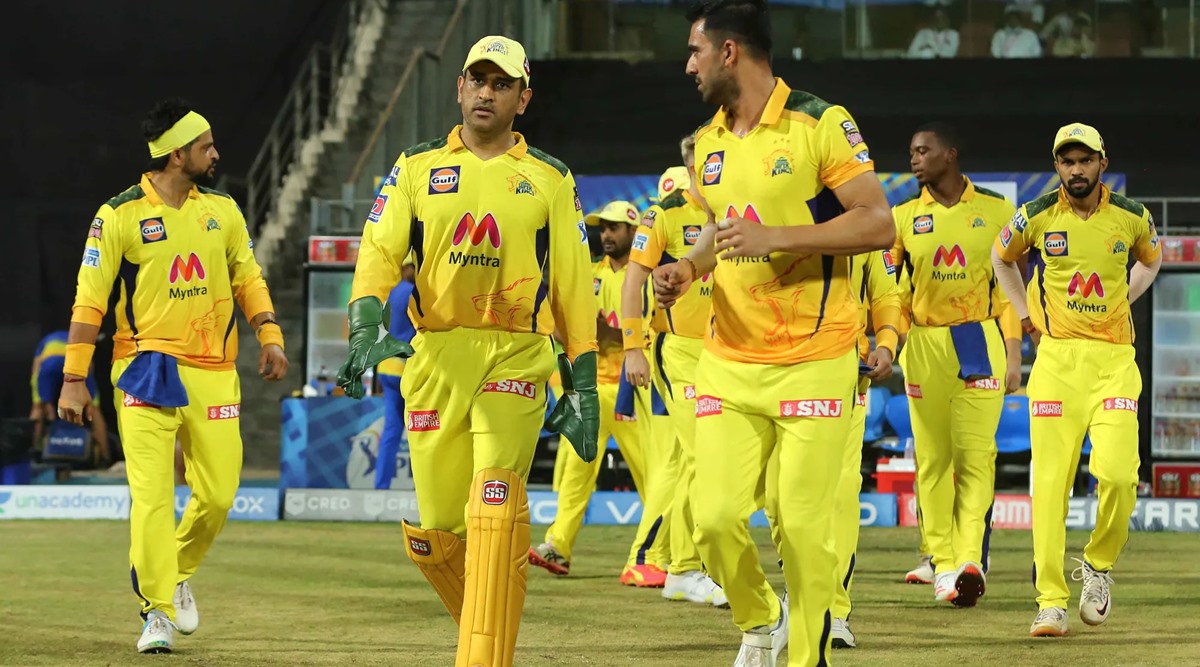 On a day when two of its non-playing members, including a coach, tested positive for Covid-19, Chennai Super Kings (CSK) informed the Board of Control for Cricket in India (BCCI) that they won't play their next match against Rajasthan Royals in New Delhi on Wednesday. It is learnt that CSK informed the BCCI that they could step back on the field only once all players who came in contact with the two people who tested positive cleared three tests over a six day period, as per Covid-19 standard operating procedure (SOP) of the IPL. [Read Full Story]