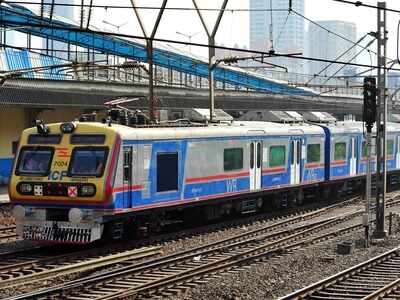 Representative image
MUMBAI: Three years after air-conditioned locals started on the western line, the railway board has granted approval to start AC locals on the main line, between CSMT and Kalyan. Services are likely to start this week.
Central railway ran its first air-conditioned local on the trans-harbour line connecting Thane to Panvel on January 30. However, fearing commuter ire, it had avoided running the AC train on the main line and harbour line as the services would have been at the cost of regular non-AC services.
A senior CR official said, "We will run 10 services between CSMT and Kalyan. Of these, at least two each will be in the morning and evening peak hours. Services may start this week."
Another official said though the tentative plan is ready, the path and timetable for these services is yet to be formalised. "The train may run six days a week, excluding Sunday."
The first AC local arrived in Mumbai in February 2016, but it began running on the suburban network on Western Railway between Churchgate and Virar on December 25, 2017.
Explaining the rationale behind starting the AC locals on the main line, an official said though 90% suburban trains were back on track, long-distance train services were not yet running at full strength. "We now have margin to run additional AC trains without antagonising regular train commuters."
The fare for the air-conditioned train will be 1.3 times the fare for first class travel. The minimum fare will be Rs 65, and the maximum Rs 220 for a single-ticket journey.
A CR official said the decision on running air-conditioned trains on harbour line will be taken at a later stage.
FacebookTwitterLinkedinEMail